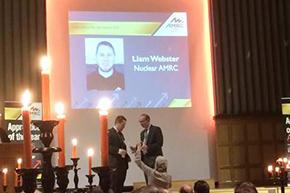 Nuclear AMRC apprentice Liam Webster was among the winners at the AMRC Training Centre's first apprentice awards.
Webster was named fabrication and welding apprentice of the year, sponsored by Oerlikon.
The award was one of 10 presented to apprentices at the AMRC Training Centre, which provides the practical and theoretical skills that manufacturing companies need to compete globally. The centre takes around 250 young people a year for advanced apprenticeships on behalf of local employers. It also offers a pathway through university, up to MBA or doctoral level, plus continuing professional development.
The awards were held as part of National Apprenticeship Week, which also saw the release of a new report on vocational education co-authored by University of Sheffield vice-chancellor Professor Sir Keith Burnett.
The keynote speaker at the awards dinner was David Pitchforth, Yorkshire-born managing director of Boeing Defence UK, who praised the value of advanced apprenticeships.
"As a former apprentice myself, I am delighted to be here today," he said. "The values, skills and knowledge that you learn here will – believe me – stand you in good stead for the rest of your lives."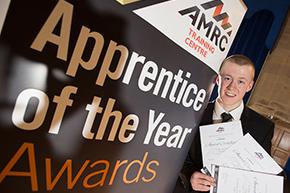 Russel Fox, an apprentice at Sheffield-based Eldon Tools, was named as the AMRC Training Centre's Boeing apprentice of the year. As part of the award, Fox will travel to Boeing's headquarters in Seattle to see the aerospace giant's new Dreamliner being made. Fox was also took the academic achiever award, sponsored by Barnsley College.
Other winners include Ross Coipel of Maher, machining apprentice (sponsored by Sandvik Coromant); Jonathan Watson of Nikken Kosakusho Europe, maintenance apprentice (Cromwell); Bradley McDonald of Sheffield Forgemasters, technical support apprentice (Hexagon Metrology); and Stacey Curtis of the University of Sheffield, business and administration apprentice (Apprentice Employment Agency).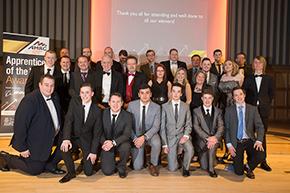 Special recognition awards sponsored by Haas, Huvema and the MTA went to Jack Wilsher-Hepworth of Aesseal for voluntary work; Kesson Lomas of Lomas Engineering for progress throughout her engineering apprenticeship; and the AMRC Training Centre's Master Cutler's Challenge team, for raising more than £7,000 for the Whirlow Hall Farm Trust and Sheffield Hospitals Charity.
John Dobinson, trainer at the AMRC Training Centre, was chosen by the apprentices as mentor of the year.