Welding technology specialist K-TIG has signed a formal agreement with the Nuclear AMRC to develop a robotic welding cell for waste container fabrication.
The cell will form part of a new technology demonstration facility to optimise the production of containers for intermediate-level waste (ILW) from nuclear decommissioning programmes.
The project will harness the latest robotic automation technology, sensor integration, statistical process control, quality control and assurance, and welding procedure automation to develop a world-leading robotic welding cell. The intention is for it to be adaptable to service the decommissioning of nuclear power sites around the world.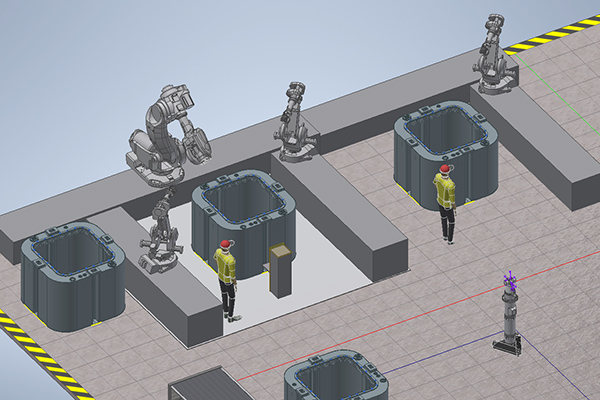 The project will be delivered in three phases, concluding no later than December 2023. Ben Hall, K-TIG's general manager for the UK and EU, will chair the steering committee for the project.
"This project is a significant milestone in K-TIG's nuclear strategy as well as the implementation of an Industry 4.0 approach within the UK, and the global nuclear waste storage industry," Hall said. "We are giving those facing complex nuclear waste storage issues the ability to source the highest quality, repeatable and competitively priced storage capabilities, whilst concurrently reaping the economic benefits of regional production nodes and jobs."
K-TIG will own all intellectual property developed by the project.
"Our collaboration with K-TIG aims to develop world-class manufacturing processes for nuclear waste storage containers, demonstrating the power of robotic automation and Industry 4.0 for tackling the manufacturing challenges facing the decommissioning sector," said David Malley, senior research fellow at the Nuclear AMRC. "A successful conclusion to this project will provide UK manufacturers with a turnkey robotic welding cell solution for waste container production, enabling them to compete on the global stage."
While the collaboration will focus on developing a turnkey robotic welding cell suitable for ILW containers, the project paves the way for an adaptable solution to a global challenge. According to the International Energy Agency, around 200 commercial reactors are to be shut down between 2020 and 2040. Across the globe, nuclear facilities are ageing with two-thirds of reactors 30 years or older.
Up to 17,000 3m³ stainless steel ILW containers are expected to be needed by Sellafield as part of its £1.5 billion procurement plan, currently scheduled to commence in FY 2023/24. There is also the potential for a further 50,000 containers.
Storing nuclear waste requires containers which must maintain integrity for a minimum of 150 years. K-TIG technology will provide that through consistently repeatable high-quality welds and integration of cutting-edge real time quality inspection capability, such as ultrasonic and acoustic sensors.
"This agreement takes our nuclear strategy from planning to execution," said K-TIG managing director Adrian Smith. "It will provide us with the foundation to enter into a fabrication joint venture or acquire an appropriate business. We are now moving towards realising long term revenue from the nuclear sector by offering a world-leading nuclear storage solution and creating value for our shareholders.
"Our collaboration with the Nuclear AMRC is a generational leap in technology for the fabrication industry. The project aims to show the nuclear industry and the wider fabrication sector the benefits of an Industry 4.0 approach. It will showcase how K-TIG's technology combats the challenges of labour market shortages and volatile metal market prices."
K-TIG joined the Nuclear AMRC as a member in December 2019 to collaborate on high-performance fabrication techniques for waste containers and other nuclear applications. Based in Australia, K-TIG has developed a patented keyhole welding technology which can produce welds 10–100 times quicker than conventional tungsten gas arc welding, joining metals up to 16mm thick in a single pass.
Find out more about K-TIG.