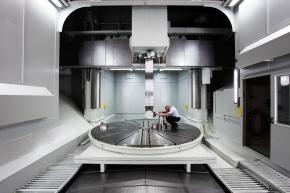 The Nuclear AMRC's newest and largest machining centres are now available for collaborative R&D, after almost a year of groundwork, installation and commissioning.
The two machines offer UK manufacturers the ability to develop new machining techniques for very large precision components.
Like all the Nuclear AMRC's workshop resources, they are available for UK companies to use in collaborative R&D to expand their manufacturing capabilities.
The largest machine by area is a Soraluce FX12000 floor-type horizontal milling and boring centre. The Soraluce is capable of working on parts such as decommissioning waste flasks, pumps, valves, offshore wind turbine hubs and sub-sea components for oil and gas. The machine can complete five-sided machining of complex parts in a single set-up, on parts of up to 12 metres in length and five metres diameter.
"The Soraluce's multiple head-changing capability allows us to undertake the most demanding machining tasks across all sectors," says the Nuclear AMRC's head of machining, Jay Shaw. "And with a working envelope roughly the size of a double-decker bus, we think it's the biggest machine tool available anywhere in the world for research."
Alongside the Soraluce is a Dörries Contumat vertical turning/milling lathe (VTL), capable of working on parts of up to five metres diameter and three metres height. It offers full turning, milling and deep hole drilling capabilities for the largest high-value components for the nuclear industry, including full-scale reactor internal parts, as well as offshore well heads and wind turbine hub connectors. The VTL is funded by the High Value Manufacturing Catapult.
"The VTL offers unrivalled turning capabilities, but also offers full gantry milling capabilities with five metres of Y-axis travel and a 37kW milling spindle with a multiple head changer," says Shaw. "Again, these are unique capabilities for a research centre anywhere in the world.
"Both these machines are ready and waiting for manufacturers who want to see what they can do."
Parts machined on the new centres can be verified in-house on one of the largest gantry-type coordinate measuring machines available. The Hexagon DEA Delta is capable of measuring parts of six metres length and three metres width, and weighing up to 15 tonnes. From November, it will be housed in a new vibration-proofed and temperature-controlled CMM extension to the main Nuclear AMRC workshop, allowing it to work to maximum precision.