As the Covid pandemic spread in spring, Coventry-based Arrowsmith Engineering switched from making aerospace parts to critical components for ventilators. Managing director Jason Aldridge explains how the company's Fit For Nuclear journey helped the team meet the challenges of 2020.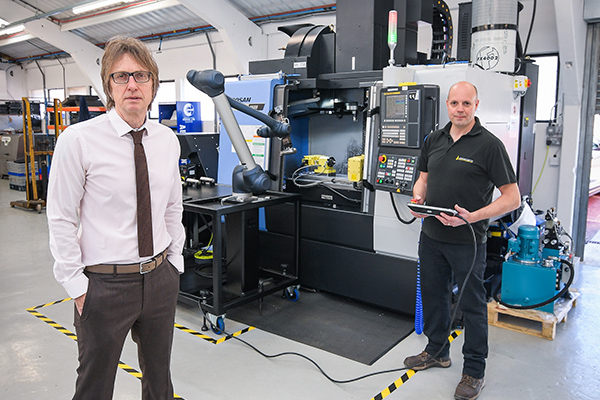 Arrowsmith Engineering usually works with global giants including Rolls-Royce, GKN, ITP and Siemens, but this year we were enlisted by Rolls-Royce to form an element of the VentilatorChallengeUK consortium supply chain which successfully produced over 13,000 life-saving ventilators.
The company pivoted its operations in a matter of days, to create a dedicated manufacturing cell to make prototype and productions parts destined for the Smiths assembly line.
Despite having a quarter of shopfloor staff self-isolating, our close-knit team came together to deliver more than 60,000 ventilator components in an unbelievably strict timescale. Once this initial order was completed, further volumes were agreed.
Our team worked two 12-hour shifts every day and night to deliver the volumes expected, with all of the initial parts supplied and assembled on time.
This was a phenomenal effort by everyone involved and highlights our versatility, successfully transferring our precision aerospace engineering knowledge to create the necessary tooling and tolerances required for life-saving parts. All of this was carried out with the government's social distancing measures in place, hence splitting the shifts in two and ensuring that 85 per cent of office staff were set up to work from home.
Our involvement in the Fit For Nuclear (F4N) programme was hugely influential in our ability to pivot our manufacturing safely.
Our company received the Queen's Award for International Trade last year and, due to our involvement in the F4N programme, we had already completed a number of cultural improvements when it comes to health and safety. This meant the factory could be quickly laid out to ensure all staff were correctly spaced apart.
We also had more rigorous communication channels in place, and visual mapping across the shopfloor which ensured that workers knew what was required of each part of the cell, and that new instructions could be shared and quickly understood.
Nuclear is a sector that offers a lot of potential for Arrowsmith Engineering and our parent group Aero Services Global (ASG), so it was an easy decision to take part in F4N.
We knew that the initiative would deliver a raft of operational performance improvements, but what we didn't expect was to call on some of the health and safety best practice so quickly, in order to make us fit to take part in the VentilatorChallengeUK consortium.
This is just the start. We are currently heading towards ISO 45001 accreditation and, through the different companies in ASG, exploring a number of new opportunities to supply into the nuclear sector.