Civil Nuclear Sharing in Growth, the high-intensity supplier development programme led by the Nuclear AMRC and Rolls-Royce, has won the Capability and Capacity Award at the NDA supply chain awards 2017.
The annual awards recognise the vital contribution of suppliers to the UK's nuclear clean-up mission. Winners were announced at the NDA Estate Supply Chain Event, held in Manchester on 2 November.
The Civil Nuclear Sharing in Growth programme (CNSIG) is developing the UK manufacturing supply chain for civil nuclear – in new build, operations and decommissioning – to help UK companies win work in the nuclear industry at home and overseas. CNSIG is part-funded by government through the Regional Growth Fund and by Rolls-Royce.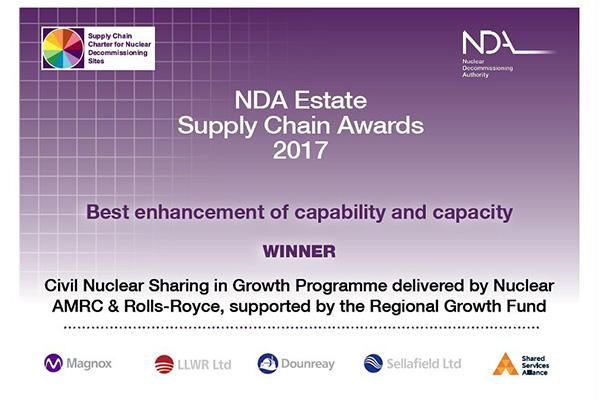 The participating companies are receiving a four-year programme of business development and training, tailored to the specific needs of their business, supported by £1 million match-funding for each company. This includes shopfloor manufacturing improvement, process improvement, leadership development and specific nuclear sector knowledge.
To date (end of September 2017), the participating companies have reported that CNSIG has helped them secure around £507 million of orders, creating or safeguarding 6,040 jobs, and have committed an additional £51.6 million private investment. The current programme runs until December 2017.
One of the CNSIG participants, James Fisher Nuclear, was highly commended for the NDA Collaboration Award for its innovative use of UAVs to assess the structural integrity of buildings at Sellafield.
Other winners included Nuvia, a tier two member of the Nuclear AMRC, which won the Technology Innovation Implementation Award for dismantling a 61 metre  separation area head end stack at Sellafield.