EDF Energy's nuclear new build project at Hinkley Point C has hit its biggest milestone yet on schedule.
The completion of the base for the first reactor – a milestone known as J-zero – means that the construction of the nuclear buildings above ground can now begin in earnest.
The final 9,000m³ of concrete was the largest concrete pour in the UK, beating a record set by the Shard in London. Reinforced with 5,000 tonnes of Welsh steel, the base has been under construction by the UK-French joint venture of Bouygues-Laing O'Rourke over the past six months.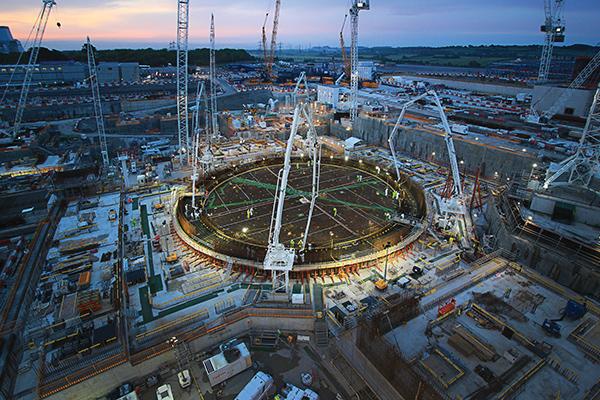 EDF also announced that it had signed final contracts for an innovative joint venture to install the pipes and cables at the power station. The MEH[1] joint venture involves Nuclear AMRC member Cavendish Nuclear with Balfour Beatty, Altrad and Doosan Babcock. The collaboration was influenced by the success of a single organisation carrying out this complex work during construction at Taishan, the EPR reactor now operating in China.
Pipework will be made by Bilfinger in Immingham at a modernised facility which will boost UK industrial capacity in this highly specialised area.
"I am proud of the talent and achievement of our diverse UK workforce, our unions, our international supply chain and the design team in France," said Stuart Crooks, EDF's managing director for Hinkley Point C. "We are benefitting from direct experience from other EPR projects and a partner in CGN which understands the technology and the project."
The construction of the second of Hinkley Point C's two 1.6GWe EPR reactor units is well underway, and on track to hit its own J-zero in June 2020. EDF says its progress shows the improved efficiency possible when an identical design is repeated, with the 12-month separation offering maximum efficiency for the transfer of teams between units.
EDF's announcement came as UK business group CBI called for more investment in new nuclear power stations and carbon capture technology to reach the government's target of net-zero greenhouse gas emissions by 2050.
In a letter to business minister Greg Clark, the CBI set out a series of priorities to decarbonise the UK economy, and called on government to use its forthcoming Energy White Paper to give more clarity.
Priorities identified by the CBI include progressing further large-scale nuclear projects, as well as supporting innovative nuclear technologies such as small modular reactors.
Tom Greatrex of the Nuclear Industry Association commented: "While Hinkley will generate power for the equivalent of seven per cent of homes, one new nuclear power station will not be enough to meet the government's net zero target and address climate change with the required urgency.
"With all but one of our current fleet, which generates 20 per cent of our electricity, due to retire by 2030, we need that new capacity for clean, secure and reliable power. As Hinkley Point C is demonstrating, new nuclear plants create thousands of jobs both in construction and operation, provide security of supply and stimulate clean growth across the country, benefitting us all."