Toshiba and Westinghouse will invest over £200 million into three new reactors at Moorside, West Cumbria.
The figure was announced by UK prime minister David Cameron after a meeting with his Japanese counterpart Shinzo Abe.
"Today we can announce the huge investment being made by Toshiba and Westinghouse – over £200 million – into the rebuilding of the British nuclear industry, specifically in the North West of our country, in a project that could provide as many as 14,000 jobs during the construction phase, and many thousands of jobs ongoing, as well as providing low-carbon, base load electricity for Britain," Cameron said.
The Nuclear Decommissioning Authority (NDA), which owns the proposed development site close to current facilities at Sellafield, announced that it had agreed terms with development group NuGen – a joint venture between Toshiba and GDF Suez – to update and extend the land option agreement.
"This is a significant step forward for the plan to establish new nuclear in West Cumbria," said John Clarke, NDA chief executive officer. "Together with our nuclear partners, we are seeing the emergence of West Cumbria as a centre of nuclear excellence across the whole span of the industry from new build to decommissioning and waste management."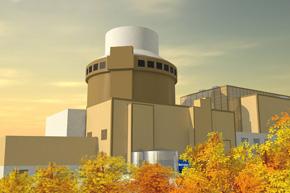 Toshiba plans to build three Westinghouse AP1000 reactors at Moorside, with the first online in 2024.
Industry welcomed the announcement.
"This is an important step in ensuring the UK has the infrastructure and generating capacity to meet its energy needs in the future," said Keith Parker, chief executive at the Nuclear Industry Association. "The north west has a long-established and highly-skilled nuclear workforce who will warmly welcome today's announcement. Coupled with that will be the benefit to companies in the construction industry and wider nuclear supply chain, who will help deliver these nationally significant projects."
The UK and Japanese leaders highlighted nuclear energy as a key area for cooperation between the two countries.
A joint statement recognised the importance of "investing in a diverse, efficient and clean energy mix in order to ensure long-term security of supply and emissions reductions" and said the two countries will "continue to maximise the opportunities for UK–Japan commercial partnerships in low carbon goods and services".
The statement also announced the creation of a new UK–Japan civil nuclear joint research fund, and a related working group on nuclear energy research.