We can help you improve the manufacturing performance of a new product at the design stage.
Effective design for manufacturing (DFM) can significantly improve manufacturability and reduce production costs for a new component or system. We can review your design to ensure that it can be efficiently manufactured. This is best done at an early stage of design development, so that you can avoid manufacturing problems and costly features.
Your challenge
A DFM study can add value if:
You are designing a new product, system or subsystem, and want to ensure the design is optimised for manufacturing.
You want to ensure your product can be manufactured in a cost-efficient manner.
You want an independent review of your design by manufacturing experts.
Our service
We review your product's functional specification and business drivers. This could include drawings, relevant codes and standards, demand and cost targets.
We work with your team to understand the key criteria for assessment. This could include component cost, manufacturing risk, material requirements, manufacturing or technology readiness level.
We will review your product systematically, using a range of tools to identify which features could be optimised for manufacturing.
We use a variety of industry-standard DFM tools including process failure mode effects analysis (PFMEA), design failure mode effects analysis (DFMEA), and advanced product quality planning (APQP). We have extensive experience in DFM techniques including reduced part count, modular design, multi-functional components, and simplified assembly.
We provide a detailed report, with evidenced recommendations for your design.
Benefits
A DFM study can help you:
Reduce the time to design a component.
Reduce the time to ramp up production.
Reduce production cost.
Produce a higher quality product.
Case study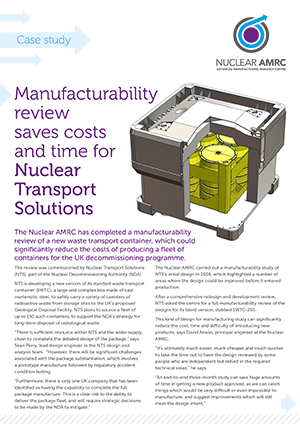 In 2022, we worked with Nuclear Transport Solutions on a DFM study of its new waste transport container, which will safely carry radioactive waste to the proposed Geological Disposal Facility.
The results accelerated development of the product, and should significantly reduce the costs of producing a fleet of 150 containers.
"The results of the manufacturability assessment have been invaluable in progressing the SWTC-255 design." – Sean Perry, lead design engineer, NTS.
Download the case study for details.