A Knowledge Transfer Partnership with the Nuclear AMRC lets you develop new capabilities and improve your business performance.
The national Knowledge Transfer Partnership (KTP) programme helps businesses improve their competitiveness and productivity through the better use of knowledge, technology and skills from the UK's research base.
A KTP can help you:
Find an innovative solution to help your business grow.
Bring in qualified people to lead new projects.
Develop your company for a changing market.
Improve your performance and operations.
Become more competitive.
Increase profitability.
A KTP with the Nuclear AMRC is a three-way partnership between your business, our centre and a recently qualified graduate. The graduate – known as a KTP Associate – will work on a strategic challenge of your choosing, with the project lasting from six months to two years. Their work is supervised by an experienced member of the Nuclear AMRC team, who will spend an average of half a day a week with your company.
The KTP programme has helped UK businesses innovate for more than 40 years. KTPs are funded by Innovate UK and delivered by the Knowledge Transfer Network.
For an informal discussion about whether a KTP is right for your business, contact Helen Arthur, collaborative R&D lead.
What kind of project can be funded by a KTP?
Technical KTPs:
Because these projects require regular visits by a member of our technical team, we currently support technical KTPs with companies based within an hour's travel of our Rotherham facility.
Management KTPs:
Business improvement techniques.
Manufacturing improvement tools.
Manufacturing strategy development.
Management KTPs are supervised by one of our national network of industrial advisors, which means we can support companies across the UK.
Example project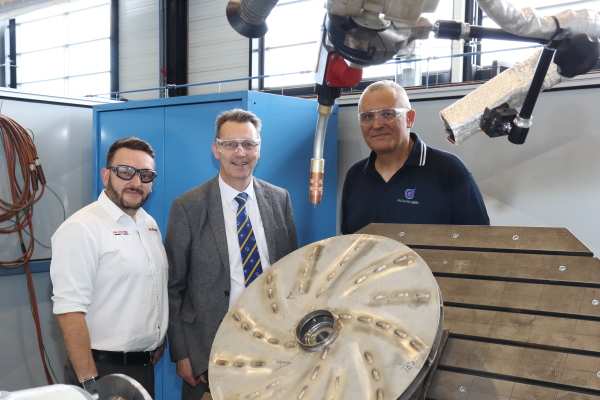 Automated welding capability development – we are working with Halifax-based Fan Systems Group through a technical KTP to introduce new automated welding technologies. The new capability will help Fan Systems ensure the quality of safety-critical fabrications for customers across the energy sector.
How it works
The Nuclear AMRC will work with you and Innovate UK to shape your project idea, make the application and help you manage the project.
We will manage and submit your application, with support from a regional Knowledge Transfer Advisor. For the application, you must specify your business objectives, proposed tasks for the Associate, and deliverables.
Preparing a good application can take several months, but we will support you at every stage. New calls are issued every few months.
Around 80 per cent of KTP applications are successful.
Recruitment of your KTP Associate can start as soon as the grant offer letter is received. The KTP Associate is part-funded by Innovate UK, and works at your company on a project of your choosing. The Associate is supervised by an experienced member of the Nuclear AMRC staff, bringing the latest skills and management techniques into your organisation.
You will contribute to the salary of the KTP Associate, and the cost of the Supervisor. The amount you need to invest depends on the length of the project (six months to two years) and the size of your company. Typically:
Small and medium-sized enterprises contribute one third of the project costs, around £35,000 per year.
Large businesses contribute half the project costs, around £55,000 a year.
These costs are comparable to those of employing a recent graduate, but with the added value of support and time from the Nuclear AMRC and Knowledge Transfer Network.
In more than two thirds of KTPs, the Associate is taken on by the company as an employee at the end of the project.
To find out more, download our Knowledge Transfer Partnership flyer (pdf, 280kb), or contact Helen Arthur for an informal discussion.