Welding R&D at the Nuclear AMRC focuses on developing advanced and innovative joining and cladding techniques tailored to the needs of the nuclear industry.
Many key components in a nuclear power plant must be manufactured by joining very large sub-components in a way that resists corrosion and maintains material integrity under extreme in-service conditions.
Welding on this scale can be a complex task – a single joint between thick-walled nuclear components might require over 100 weld passes using standard techniques. The repeated heating and cooling can have significant effects on the material properties around the join, potentially harming the long-term performance of the component.
Our welding team has the resources and experience to help companies develop new and optimised welding processes for the most demanding applications. We are also investigating and developing a variety of materials engineering processes, including hot isostatic pressing and bulk additive manufacturing, for nuclear applications.
For more information about our welding capabilities and research, contact Will Kyffin, head of welding and materials.
Current equipment at our South Yorkshire facility includes:
Pro-Beam K2000 EBW chamber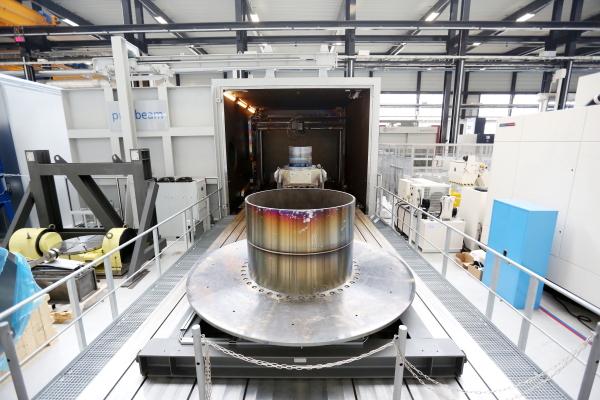 Very large electron beam welding chamber with range of advanced features, for joining and additive manufacturing of vessels and components.
Volume of 208 cubic metres, the largest of its kind in the UK, max part weight 100 tonnes.
Internal mobile 40kW 80kV gun.
Able to produce fully penetrated single-sided welds up to 150mm thickness in steel.
Fully automatic joint following and variable thickness programming, available on only a small number of machines worldwide.
Nine axes of movement.
Research into bulk additive manufacturing.
Pro-Beam K25 EBW chamber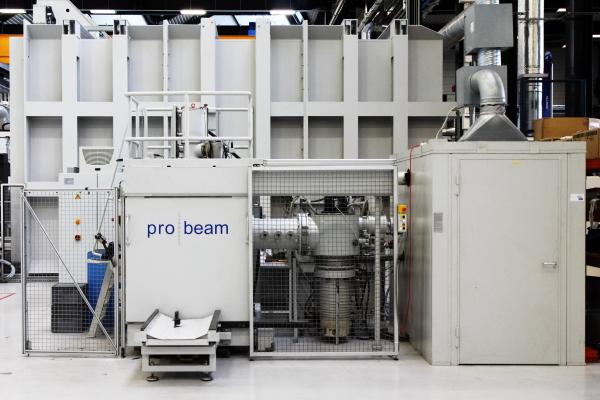 Electron beam welding chamber for pilot research into innovative joining techniques for large components.
Chamber volume of 2.5 cubic metres, max part weight 500kg.
Static 40kW 80kV electron beam gun.
Welding of plates up to 100mm wall thickness, plus tubes and complex structures.
Diode laser cell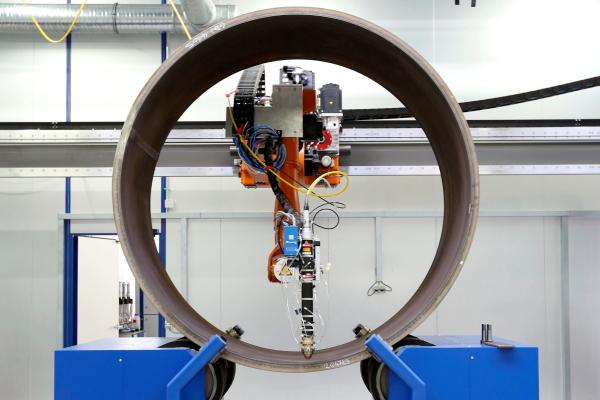 High-speed, high-quality, low-waste cladding of large components with stainless steel, nickel alloys and wear-resistant alloys.
15kW Laserline fibre-coupled diode laser, capable of depositing up to 10kg/hour.
Enclosed chamber measuring 10 x 10 x 5 metres.
Roller turntable with max workpiece 3 metres diameter, 3.5 tonne load.
Small-bore cladding capability, down to 70mm inner diameter and 400mm stroke.
Welding of steel up to 10mm thickness.
Research into bulk additive manufacturing and five-sided welding techniques.
Disk laser cell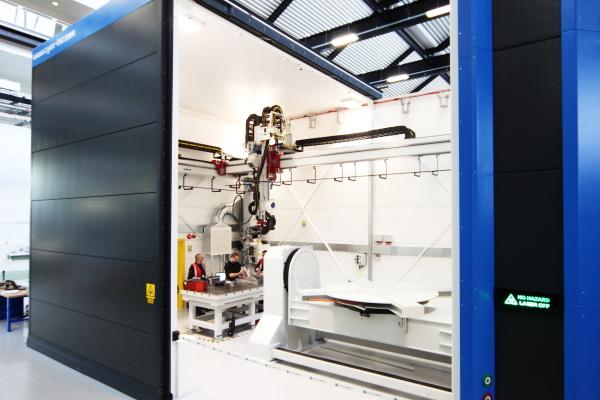 High-speed, high-quality welding of large components.
16kW Trumpf fibre-coupled disk laser, mounted on six-axis gantry system.
Enclosed chamber measuring 10 x 7 x 8 metres.
Turn/tilt table for workpieces up to 3 metres diameter, 15 tonne load.
Autogenous or wire-fed laser welding.
Laser-hybrid welding.
Cutting for decommissioning.
ITW Miller SAW cell
Flexible submerged arc welding cell for conventional narrow-groove, circumferential and longitudinal welding.
15 tonne manipulator under 5 x 5 metres column and boom, supplied by ITW Miller.
Range of heads, including strip clad welding head capable of welding 90mm strip.
R&D focuses on optimising conventional welding processes for nuclear applications.
Polysoude GTAW cell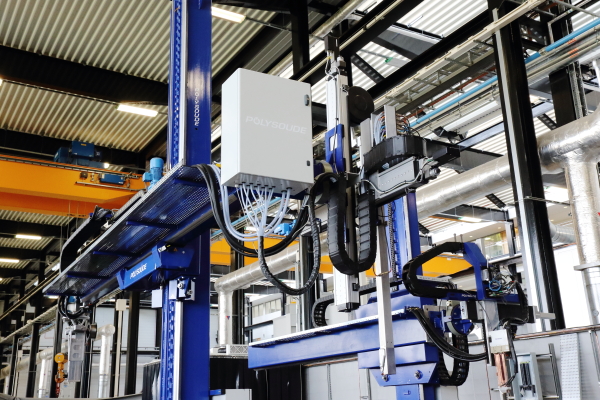 Multi-function gas tungsten arc welding cell offering choice of heads for wide range of applications.
Polysoude 7.5 tonne manipulator on 6 x 4 metres column and boom.
Can deploy variety of end effectors, on tractor unit with three axes of movement. Heads include dual hot and cold wire; narrow gap; extremely narrow gap; and keyhole welding.
Polycar track system allows welding where column and boom can't reach.
Research focuses on optimising conventional welding processes for nuclear applications; and groove welding for components, such as set-in nozzles and bosses, within the nuclear island.
ABB/Fronius robotic welding cell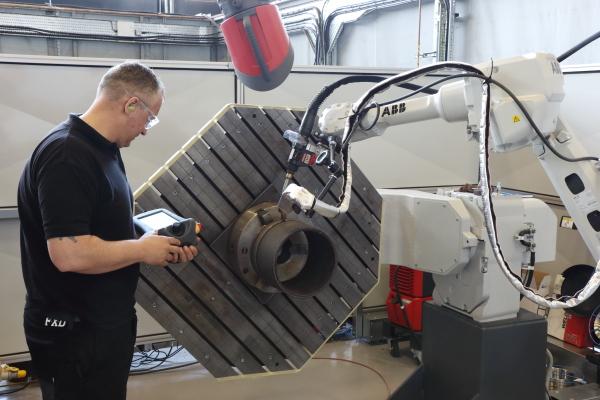 Flexible robotic arc welding cell with additive and cladding capabilities.
Fronius TPS 400i MIG/MAG welding system, with cold metal transfer function for high-speed cladding with minimal heat input.
Fronius MagicWave and PlasmaModule technology with specialist plasma welding torches, for high-speed deep welds with minimal risk of distortion.
ABB IRB2600 six-axis robot arms and two-axis workpiece positioners with Absolute Measurement System.
Research focuses on automated welding and cladding processes, real-time weld process monitoring, and additive manufacturing.
Modular intelligent manufacturing and inspection cell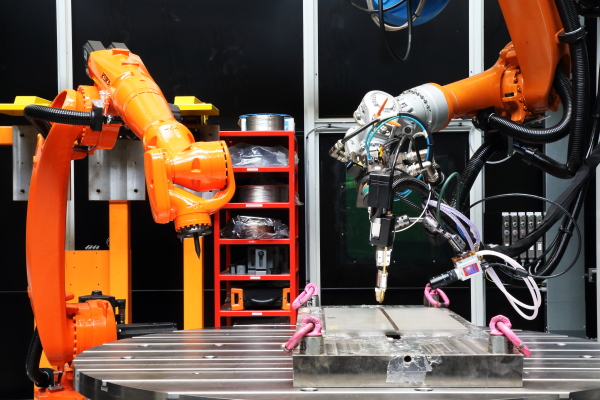 Integrated platform for automated welding and inspection.
18-axis robotic cell with two Kuka robot arms – one mounted on nine-metre gantry, the other floor-mounted.
Robotic TIG welding with automated tool centre point (TCP) calibration.
Range of interchangeable inspection tools.
Initial research focuses on advanced photogrammetry for flexible robotic manufacturing.
K-TIG 1000 keyhole welding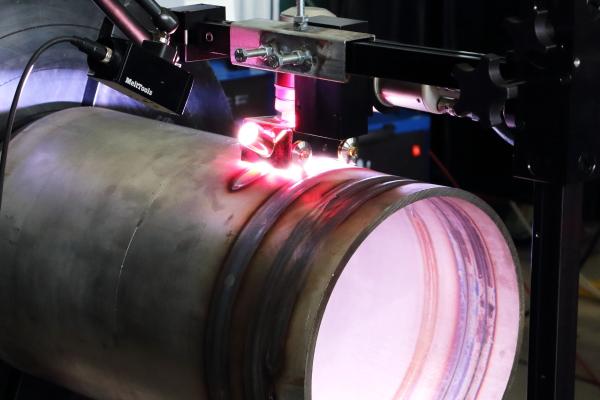 High-speed single-pass full-penetration GTAW system for tubes, pipes and other fabrications.
Welding speeds up to 100 times faster than conventional GTAW.
Full automation with no need for filler wire, edge beveling or skilled operators.
Can join metals including stainless steels, titanium, zirconium, Inconel and other specialist alloys.
ESAB planetary SAW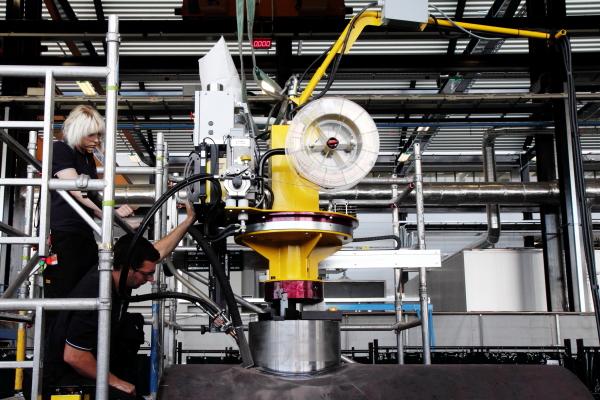 ESAB A6-MHW submerged arc welding system designed for joining nozzles and access hatches to cylindrical vessels or flat plates.
Can weld nozzles of 150-1,100mm diameter and 150-750mm height.
Slip ring allows continuous weld through repeated rotations, with high deposition rates significantly reducing weld time.
AMI tubesheet welding cell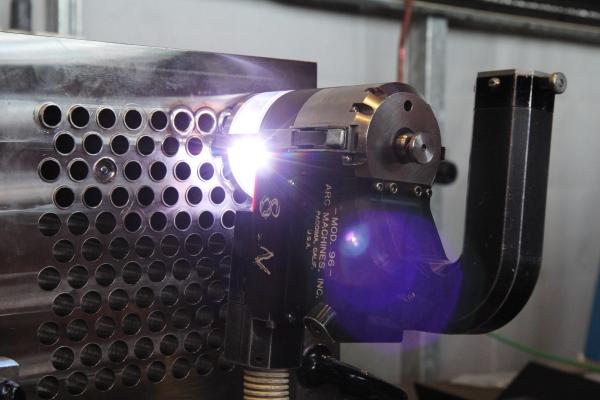 Specialised GTAW cell for autogenous welding of tubes and tubesheets.
AMI Model 96 and Model 6 weld heads with AMI Model 227 power source.
Fully portable solution for fabrication of heat exchanger assemblies.
Pneumatic clamping system ensures that weld heads are optimally positioned before welding.
AMI narrow groove welding cell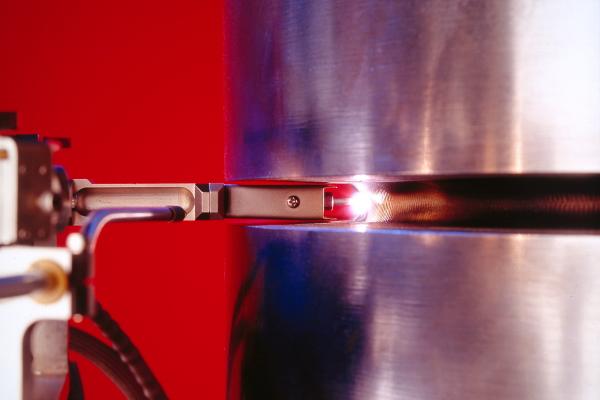 Orbital welding cell for large and small diameter narrow groove weld preparations.
AMI Model 52 narrow groove welding head with AMI Model 415 power source, offering high integrity GTAW process.
Used without traditional column and boom, ideal for portable welding projects.
Quintus QIH62 hot isostatic pressing facility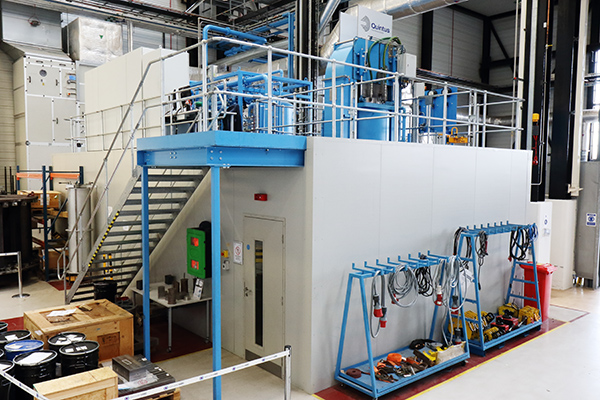 Densification of cast or additive parts, and consolidation of metallic powders to produce near-net shape components.
Hot zone of 450mm diameter by 1300mm length, workload up to 1 tonne.
Temperature up to 1450°C, pressure up to 207MPa (30,000psi).
Hochstrate SBM 2000×16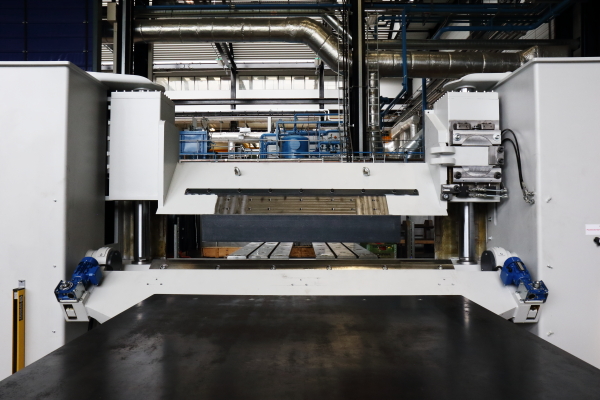 Swivel bending machine to support research into advanced fabrication techniques for nuclear applications.
Precision shaping of sheet materials including ultra-high strength steel, titanium, copper, plastic and laminated sheets.
Plates of up to 2,000mm width and 16mm thickness, with tensile strength up to 400N/mm2, bent to angles up to 135 degrees.
Operating pressure up to 250 bar.
For full technical details of all our equipment and R&D capabilities, download the Nuclear AMRC capability directory (12 MB pdf).