As well as supporting the delivery of low-carbon power, the Nuclear AMRC is dedicated to ensuring the environmentally sustainability of its own operations. To mark Net Zero Week, marketing coordinator Elle Wilmot and research engineer Ben Rae discuss the latest from the Green Impact programme. 
For the past three years, the Nuclear AMRC has been part of the Green Impact scheme, a United Nations award-winning programme "designed to support environmentally and socially sustainable practice in your workplace".
This means that as a business, we are ensuring we do our bit to cut emissions and create a more sustainable way of working that we hope more businesses follow in the future. Nuclear energy is a green solution to providing energy and power to our planet, and it is important that as a company our building and staff are leaving a green impact on the environment in their day to day working lives.
We were introduced to Green Impact by Alice Potter, sustainability projects assistant at the University of Sheffield. Potter told us: "This year we've celebrated the 12th year of Green Impact at Sheffield. During this time we've grown our network of Sustainability Champions and engaged a wide range of the University community with sustainability actions and events. The programme empowers staff and students to play a key role within the University's goals and has created a fantastic group of enthusiastic volunteers, who we are extremely grateful for and proud of."
In the past year, our colleagues at the Nuclear AMRC have seen a new way of working at home. This has given our staff time to reflect on how we can be more efficient in how we work and, most importantly, how we can be a role model to other companies in making steps to become a sustainable place to work.
From the minute staff were introduced to the Green Impact scheme, it was clear our staff at Nuclear AMRC and the wider campus really do care about making steps in the green direction. Our Green Impact team grew from a small team of two to over 20 interested members in a few months.
Previously, a small team has worked towards two main goals: staff welfare and improving wildlife. In the past year, staff health and wellbeing became more important than ever due to being forced to isolate and focus on our health more than usual.
Our aims as a centre were to keep staff morale high with out of work activities such as quizzes hosted by our CEO, and also to promote wellbeing activities created by our staff such as our cycling leaderboard and regular ramblers walks. Moving forward, we hope to keep pushing more activities outside of work that can improve our staff wellbeing and bring the centre together.
On the other hand, we wanted to improve wildlife at the centre. One of our main ideas was to look into purchasing bug hotels to place around the park to attract more insects and wildlife and increase biodiversity. This was put on hold due to working from home restrictions.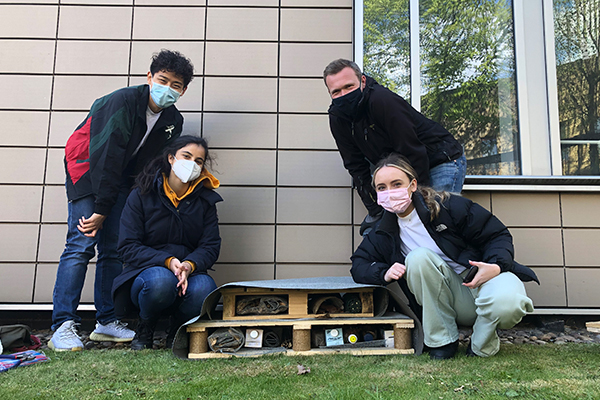 Recently, Elle Wilmot ventured to the University of Sheffield to work alongside colleagues teaching students the importance of bug hotels for insects and other wildlife. There was an exceptional turnout, which highlights the interest and passion people have for wanting to create a positive impact on the environment.
We are so happy to announce that the Nuclear AMRC have made the decision to team up with our sister centres on the Advanced Manufacturing Park, the University of Sheffield AMRC and AMRC Training Centre, to join forces and make changes that positively impact the entire park.
Jocelyn Gittens, environmental supervisor for the centres, speaks about the decision to come together as a larger team: "In 2020, the AMRC began its first venture into the world of Green Impact, achieving its bronze award in 2021. We identified energy use as a key environmental impact due to the large amount of machinery and processes found around the site. With this in mind we decided that our project should focus on understanding our current energy use levels to then implement controls to reduce it.
"Because all buildings can benefit from the three projects proposed by the Nuclear AMRC and the AMRC Green Impact teams, Elle Wilmot and I made the decision to combine both teams. This joint approach will allow us to ensure that the impact of the projects stretch as far as possible while giving staff a single point of contact to submit any other improvement suggestions to."
This is now an exciting new chapter for Nuclear AMRC to make both small and large changes to ensure we are leaving a green impact on our planet.