Research involving the Nuclear AMRC's innovative robotic machining cell has been presented at a high-profile engineering conference in Toulouse, France.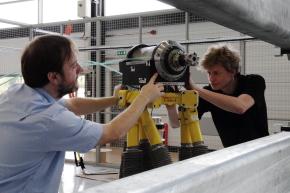 Speaking at the prestigious SAE AeroTech Congress, Roger Holden of Nikon Metrology presented progress on the project jointly led by Dave Stoddart, robotics project manager at the Nuclear AMRC.
"We've proven that we can tackle different metals with the robot, including stainless steel," says Holden. "The project is focused on the very large scale manufacturing that you're looking for in nuclear, but at a reasonable cost, without turning the whole building into a huge gantry access system. We've proven what we initially set out to prove, though there is still much more research and development to do."
The robot cell has now been installed in the Nuclear AMRC's research factory in South Yorkshire, following initial trials at Nikon Metrology's workshop in Tamworth. The project aims to develop a single automated system which can carry out a range of processes such as machining, welding, dressing and inspection over a large area to very high precisions.
"Traditionally, the manufacture of very large components involves very large machines, and you spend a huge amount of time moving the components between various machines and processes," explains Stoddart. "The principle behind robot machining is simple – it's a lot more efficient, cost-effective and safe to bring the machines and processes to the component.
"This adds a huge amount of flexibility to the manufacturing processes, while dramatically reducing the capital expenditure associated with traditional milling machines."
The robot cell provided by Nikon Metrology is based around a hexapod robot from Fanuc Robotics which can carry a variety of tool heads. The robot's position is tracked by an indoor GPS system. In trials, accuracies of 0.2mm have been achieved.
"We were targeting around 1mm," notes Holden. "We will be able to get even higher precisions if we control the tool itself, but we're only tracking the robot base at the moment."
Although the Nuclear AMRC project is focused on nuclear manufacturing applications, robotic machining technology is also the subject of intense interest from the aerospace industry.
The SAE AeroTech Congress is a globally recognised engineering forum, held in Europe every four years. For more information, see http://www.sae.org/events/atc/
---
Nuclear AMRC machining group manager Stuart Dawson also presented the research at the MWP Advanced Manufacturing Summit in November 2011. The video below was edited from footage prepared for his presentation, and shows the flexibility and accuracy of movement of the robotic system.